Actually not really.But there was something lacking from X3 and it does seem different from the rest of the Xmen series.Would i say it's the worst of the series?...yup.But is it that bad?Nope.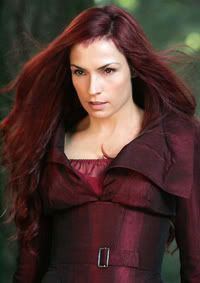 This is what i think....
Basically the thing I love about this movie is because they made a bold move..God was I surprise when...lets just say something happend to a couple of characters that made me go :O.Secondly...DARK PHOENIX..costume aside...she was AWESOME!now that's the dark phoenix i want...then there was the BEAST....now this dude is really potrayed as what he is like in the comics...when he said "oh my stars and greatness.."(i may be wrong with greatness) i smiled coyly.fight scenes are awesome...but! there is a but.i'll continue with that later.And finally Storm!...now that is the strom I know...before this she was like a second lame ass character.
To end it let me just say it started out really good...end kinda kewl but not to my liking...and mystique...:(
Now the bad...hoho,MOST of the side characters...i dont know who the heck they were...b4 this bryan singer made it kinda clear who was that and this...and even have some of the mutants name shown through a computer screen e.g;karma,gambit(yg nih pon jadi lah) but this time "entah sapa2 muntant2 tambahan"...at first I saw this big guy..and i went ohhhh the blob...then!he shrunk!(so that really wasnt the blob...unless brett changes his power...grrrr)..psylocke!soooooo babi...fyi psylocke is my all time fav character in xmen...but in here she's underused and not forgeting she doesn't look anything close to the comic psylocke.And why the heck is quill picked to be one of the core bad guys!shesh!...in new xmen he's not even the core characters....I would have prefered the core guys like Sooraya Qadir or Wallflower...heck even Rockslide will do.Finally...there was no one on one scene(great scene) like in the previous xmen (wolverine vs mystique; wolverine vs deathstrike)...though there were lots of one on one but boy was it brief.And phoenix is not! a split personality of jean! sheshhhhhhh why was that change!oh well...
So i end with X3 is good,but it aint all that...many characters could have been used here but it WASN'T..here's to hoping that bryan singer's superman to screw up!