Ok firstly nak cerita pesal semalam...ha smlm aku kuar ngan some "perempuan2 sundal" bak kata izar lah kan..dan with joe n adlie...kinda fun..bought a t-shirt..putih weih..! aku taknah nak beli baju putih sangat "so not me"..melainkan demi nak gi riadah(which was a long long time ago..when i was young-er),anyway just wanna state I wasnt late..Jaa yg siap lambat bebenor..entah apa agaknyer stuck yg watnyer lambat..kot yeh pon stuck bra tuh ke panggil ler aku tuk tolong...though pastuh mungkin aku akan traumatize setahun...anyway had fun yesterday..a pity tak dapat tgk wayang..N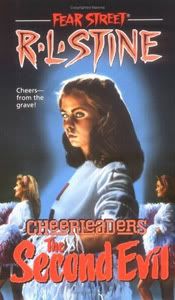 Ok on to the topic,anyone of u have read or bought any fear street books when ..erm let say teen years..cause I bought lots.I just gave through my old novel books here...which aint many trust me on that..and saw a couple of fear street novel and I thought to myself.."oh dear me god(yo-yo kan),why the heck isn't it made to a movie yet?"..seriously..fear street novels are the best..some ever scared me shitless.Though yes when u get older it does tend to be quite obvious who or what the killer is...but once upon a time..it's a great suspense/thriller novel that kept me up all nite..infact i remembered that some I manage to finish it in a nite..(novel weih..aku tak suka novel..so that DOES mean something)
To name a few of the "selected" ones..I would say
Fear Street Sagas
,
99 House of Fear
(or is it
99 Fear Street
?) is one of those memorables titles.BUT! what I love the most is
Cheerleaders : The First,Second and Third Evil
..and Then continues on with 3 more titles.Now the Cheerleaders series definately rowks!I still remember that I can't put the book down as I really wanted to know what the ending was for each series.
Plotline :
Basically it centers around this group of cheerleaders (duh),they were on a school trip but had an accident..then weird things started to happend and most importantly..the killings begin,and let me tell u some are pretty brutal.Is it a phantom or is it some girls who just went knife happy?
Y is has potential? :
Nudity!...no no really..,it has sooooo much potential...and it can be a trilogy..like
Scream
.Then the characters are likeable and they grow in much depth as it progresses to the other chapters(as in, first --->second book)and just a bit of a spoiler not all of them survive..this includes the main characters.Which is great...it cancels all the rules of 3 main character survive or heck even the 1 last standing heroine rule.
Point of topic : Someone needs to use this book as a refrence..really am not joking.Use it,change it...but basically base on it..Heck even anyone who's thinking of making a movie...by all means use this book.I've pointed the direction.Go young directors..FLY!(refer to cyber nih actually..love u..wink2)