Me thinks apart from movie review and mah bloody life..maybe I need to spice the blog a bit with more issues(appart from the top 10,a newer one is coming)so me thinks me should write more stuff like that topic I did way back about the hollywood in thing;which was running/walking or whatever down the street a boom ur arse is hit by a car.


Which comes to the current movie I wanna talk bout ; Battle Royale 2 : Requim.
This movie fails in so many levels.BR1 was a classic but this,appart from the pretty cast and so-so first 40 minutes..BR2 is pure crap.Which now brings me to this one particular character,actually she's not the only one..there are others but she sticks out the most.



Girl #10
Yuko Natsukawa
Soccer Team Manager
A local girl, the daughter of a local restaurant owner.
She's very motherly to the class so her nickname is "Mom."
When BR2 cast was announce,we(the fans) were treated to the full cast list with pictures of the kids.Fun times, as some of the cast are obvious choice for an early demise.And this chic was one of em.Don't get me wrong, I wasn't rooting for her to survive but her death was too,how can i put this..pushed?or maybe forced?
Scene : Some of the students collar started to beep(which indicates it'll explode anytime soon)..so everyone went panicky which is understandable..then came chic #10 going eee ooo aaa then stood up and run..and boom!..shocking.
My issue : Why the hell is she singled out?The other "prettier" chics had like 10 sec more to live..what the..everyone died nearly the same time(the chics are tag to other male hooligans,if they die..the chics dies..vice versa)And girl#10 partner died like 2nd...so why the first chic didn't explode first??haaa think bout that.My guess is like, this girl is big and a liability so why not kill her off first(and also the other gals are way hotter than her)...I can imagine it now, the director was like hmm we need one to die here..so why not...(pointing towards the whole class)....YOU!(girl#10)..bloody hell.Pity her..well at least she had her moment in the movie..like 15 sec of it..ahaha!mostly i only notice her for the pony tail(good effort btw to highlight her)
But all in all a good show from her.Bad director for taking out the plus size one.
Bloody hell!,why am i singled out
Ok seriously,why is mine beeping stronger than the others
Screw you mr. director I'm coming for ya!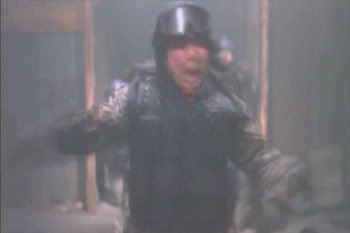 OY!