Lama tak review movie seh...dah piling up dah beberapa,takper i'll make it short and sweet...first up


Hairspray
Plot : This happy go lucky big gal wanted to join this group of young dancers who consist of
Britanny Snow
,
Zac Efron
and others.She got in but faces some challenges from Britanny Snow and her mom.Happy2 sunshine songs ensues.
Perasaan : Going into the movies(alone! i might add) I was actually,well wasn't interested..i didnt even see the trailer..It was just something at the moment that I had to pick something..and Hairspray was it.And I like it!Scratch that...loveddddddd it!!!..from the beginning the big gal started dancing till the end.That girl was...toooooooo cute.I can't help but fall for her.And personally it's one of the best ensembled cast I've seen in a while,everyone is good.The songs were terrific,i felt like jumping up with joy .At the end of the show I felt like going barging out from the cinema while singing Good Morning Baltimore while other movie goers from behind come bouncing,flip and doing a cartwheel from behind.That's how good Hairspray is...dont fricking miss it.8/10
Wrong Turn 2
Plot : Some producers think it would be an excellent idea to shoot a reality show in the woods where these 6 people are thrown in and try to survive.Oh, and there are mutated humans lurking in the woods.
Perasaan : Wrong Turn was a classic,and when I heard the second one was made for video...haiyaaaaaaaaa and groan.But when I actually saw the piece,It wasn't that bad..some of the cast are actually likeable and there are a few surprises here and there.Nudity is a must since
Crystal Lowe
is in it (she drop it off in
FD3
and
Black Christmas
)..the gore was disgusting but me like.One problem though..like Feast..there was this perverted scene that I actually don't like..I find it tasteless.Other than that..an A ok film for me. 6/10
Windchill
Plot : An uptight girl hitch a ride from this dude to her hometown since the flight was full.Bitchin and moaning ensues...and then later they got stranded on a deserted road and it's dead cold outside.Then some ghost pop up here and there.
Perasaan : Wake me up when its over. 4/10.
Emily Blunt
how could you!!!!!
Hatchet
Plot : Mardi Grass(betul ke ejaan nih?aku main tembak jer LOL) is here.And these stupid tourist decided to take a spook ride rather than join in the fun.Later they got stuck in the swamp and this ugly mutated looking good started chasing them and hack them up good..REALLLLLLLL GOOD.
Perasaan : Ok first off,
Harmony
from
Buffy
is in there!!!AWww i missed her...and then..she went topless!!!LOL.And the scene for me is one of the funniest scene in the movie.The bimbos in here rocks!Appart from the gore the jokes in this movie is to die for,hence me like this movie.It's new ..it's fresh and hip.OH not for the faint heart.But for Dela so she'll get ideas to flash the camera. 7.5/10
Death Proof
Plot : An old stuntman hunts young girls for fun.Killing them in/using his Death Proof car..fun times.
Perasaan : I like this movie for the realistic dialog..i can't remember who..I think it's Dela who once said realistic dialogs are cool and feels not forced..which I gotta agree...however the only problem is this movie tend to drag the conversation way toooooooo long.But when the kills started...WOAHHHH!..Those who are impatient should not watch this..cause this story have two parts..both for an hour.But I promise you the last 30 minute is one of the funniest revenge scenes EVER!..seriously!EVERRRRRR!...7.5/10
Resident Evil : Extinction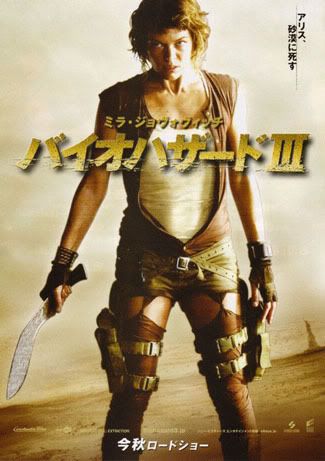 Plot : Continuing from the last installment.
Alice
is still alive and running from the Umbrella cooperation.The earth is one big ass dessert now so humans are really close to become extinct.But there is hope..i think.
Perasaan :
Milla
is still hottttttttt..oh man she age really really well.Still remember her from the
Multipass
days..haih.Anyway..though she is pretty..this gotta be her worst acting role ever..i dont buy it when she got emotional..maybe it's the dialog i dunno.However when she kick ass and be all
Linda Hamilton
..she rocks!.Others are ok I guess..not much of em...luckily!specially Ashanti.The plot is a wee bit weak...whatever happen to Jill..come on..how could they leave one that charater!shesh..but the action sequence are great...the crow part is cool.So i end with it's better than the second but it could have been much much more.7/10.Milla rocks!!