Some of the reason that I love watching horror movies is because of the dames beeing chase by a madman or thing...that really gets me pumping with joy...well enuff bout the intro...lets continue with the top 5 dames who screams the shit out of them.


5.Drew Barrymore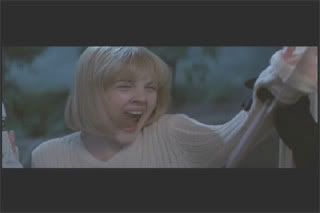 Though she acted in only one real horror movie(where she is the victim..unlike
poison ivy
)I think DREW rocks,she delivers her character in
SCREAM
.I totally was rooting for her...and seeing her weeping is sooooo endearing...makes me wanna reach in the screen and hold her.And let me just say this...This is one of my fav scenes in a movie(whole genre combine)...i will never forget this scene...EVER!
4.Sarah Michelle Gellar
Ladies and gentlemen...my future wife(after i kill Freddie that is)...anddd this is when i fell in love with her.Damn! that green dress she wore really switch my button on like most people who got turn on with Princess Lea in the golden bikini(not me).......Anyway!Like Drews scene in Scream...this is also one of my fav scene in a movie!heck! its one of the greatest chase scene i have ever seen.I remember the first time I saw this I was like Run run run run!(with legs flying and all).Now for the scream...Gellar has this cute scream which aint too loud and not too long,unlike most of the actress who go on aaaaaaaaaaaaaaaaaaaaaaaaaaaaa!Ok i also may be a bit bias here BUT! if i am bias..I would have put her in no 1.EH duk bebel2 lupa ckp nih movie
I Know What You Did Last Summer.
3.Veronica Cartwright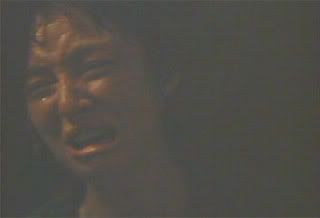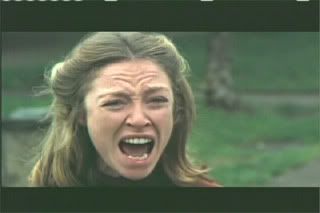 Miss Cartwright is one of those actress that I think should have more recognition.She's one talented lady...and her scream!fuH!...so real!...not to forget her face expression!Since I was young I would remember her scene where she was scared shitless when the
Alien
was right in front of her.And then somewhere 5 years back I think...I was privilage to see
Invasion of the Body Snatchers
...where her scene is one of the scene where made my skin crawl....brrrrrrr...so real..and the fact that we lost...(i know im mumbling here...but if u have watch the movie u would understand)
2.Jamie Lee Curtis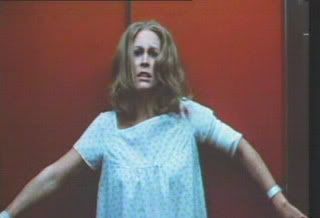 Now how could i not include miss scream queen into the list of my favourite screamers.Jamie Lee is the Queen of scream queen..in fact me thinks she's one of the earliest greatest scream ladies where slasher movies is just starting to be big.Miss Lee screams are most memorable in the
Halloween
series,she's the helpless but lucky dames..cause basically she doesnt fight much with micheal...all she does is run and scream.Not that is wrong...but lets just say its more realistic...than seeing the girls go all mucho all the sudden.(like she did in
H20
and suddenly go all stupid in
H7
)
1.Marilyn Burns
Ok I know most people would go whoo?!Yeah I would too...but if mention the dame that scream her heart out in Texas Chainsaw (the original)...now THAT! i would remember.By god does this lady can scream...she was sooooo real..I remember watching she runs into the forrest and she got stuck on some branches...now!usually i would say typical...BUT! she really looked like someone who was stuck.And the last scene..talk about life imitating art...she looks really traumatize.And for that kudos!...she will always be the best screamer I've ever seen.
So that's the end of The Screaming Dames...hopefully i can think of more topic to bring up after this..and my work still sux.