Seems like ages but,it's just been like 6 days i haven't posted anythin..well working still sux...got a little bit better this week but i still wanna leave..if i can that is.

now to my fav thing in the world..well i watch a bunch of latest movies that has , just and will be release.basically most of them are good..in fact great which i gotta review..but i'll try make it short and sweet.

Pirates of the Caribbean : Dead Man's Chest.


Well to start off, I gotta say it ain't as good as the first one.Don't get me wrong,the latest one is good enuff but in comparison with the latter one.Me rather see the first one like 10 times than this one.Y?...well..the thing I remember most about the first one is the LOL jokes round the clock...and I trully love it.For the second installment I mostly laugh about Capt Jack's antics,which was ok...but I'm missing all the side character jokes...like the
parley
(i dont know the spelling..sue me) joke in the first one...Apart from that somewhere in the middle it gets a wee bit boring for me..until the Kraken came that is!..now that was awesome..the villain?not bad...me likey the first one better..this one is more slimy than scary....all in all a good installment..but i was expecting more..3/5.Oh if u havent seen it yet..plsssss stay for the credits..there are some more in it.
Re-Cyle
After going out of the cinema I instantly say that this movie is like
Alice in Wonderland
gone bad(and let me make a note here,
I didnt!
copy anyone with this quote)..anyway is that good or bad?Well I would say good..Recycle is soooooooooooo visually stunning!But i'll get back on that later.Firstly i would like to point out..this is actually not!a horror movie..i came in expecting that..it's more of a fantasy movie..kinda like a journey..like Alice did.Now here's the timeline of my reaction watchin this movie
SCARED SHITLESS --> WEIRDED OUT --> HUH -->OHHH FANTASY --> KEWL VISUAL --> AUWWW THAT'S SAD --> WHAT THE F@!$!@!
..so that's what i felt watching the movie..and let me say its such a roller coster ride of emotion,really didnt expect that and for that i love this movie.BUT!what's with the BANG BANG BANG BOOM ending! now that is such a turnoff.Now visually..oh god so stunning..my fav place was the stairways place..such great visually...and this movie isn't lacking with it..i'll finish it with me likey the movie..but change the ending...4/5
Lake House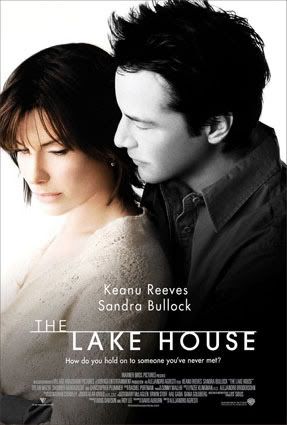 Ok jap nak kesat air mata...cewah!Oh btw ju nangis tgk cerita nih,AHAHAHAHA.Ok on to the story...now it's been a long long long time..i've not fell so mushy about a romantic movie..and i thank whoever that's involve in making this movie(and the original one) in releasing this movie..such an awesome movie.Long time I haven't felt this way...I went awwww at the end of
Never Been Kissed
,felt lots of emotion at the end of
Cinema Paradiso
,wishin i was the guy in
100 Girls
confronting all the 100 girls,felt so sad and yet wanted to slap Ben Affleck's character in
Chasing Amy
,getting all giddy when Sandra said I was wished for u in
Practical Magic
...and went all lovey dovey in
Great Expectations
.Now I have
The Lake House
to put into the list..such a great love story.Lovin every minute of it.Though Keanu was a bit stiff at times..he did manage to pull it off...and Sandra such a sweetie,LOVE her.and making the lake house as the medium..nice touch.And to input Paul McCartney(sorry spelling)song in between the movie...god! im loving this movie soooooooo much!My only turnoff is not including Keane song into the movie..in any parts.And let me say this...so far this is my fav movie for this year...AND fav trailer...5/5
that's it for now...let me just say also..finally some good movies coming in!.and also..i saw silent hill...but i wont review it until im satisfied with the copy i will watch