Hi Movie Fans, first up...this week..from last sunday that is, I had fun watching loads and loads of movie, the great thing is...all of em rocks!!!!

I'll start with Pothead and the Order of The Pheonix, as the previous entry stated I had a bad time watching Pothead the first time around..fortunately someone booked a show for me on Sunday so tralalala i watched Potter second round on Sunday.


Plot :
Potter's all grown up, but he's still the shortest of the bunch(tee heee),Hermoine's grown well(tee hee as well)..and Ron..is Ron with bigger hair.No one believes Harry crap bout Voldermont back from the dead story so he's been alienated at school.But Voldermont is back so it's Harry' job to prepare these underage kids with the "defense against the dark magic".
Verdict :
Allrite..a lot..i mean a lot of people don't like this entry,I on the other hand lurrrrrrrrrve it.Ok I can understand maybe those hardcore fans of the books maybe a tad upset(hey I was pretty much pissed by some of the changes in X-Men the movie) however I don't get some of them saying it's no more fun, ok maybe they should have added some games or magic or nudity in it.But hey Harry's all grown up..so it's logical that the story a bit more mature.In which Y! the main reason I like this entry, It's dark, Harry's story progressing in a whole new level..he's more edgy(acting is also great BTW) and he's character got more depth.So I like like..I'll keep this short cause I need to review other movies, but I wanted to add that the addition of the Bitch
Umbridge
and
Luna
is awesome ...love em both..Luna is so weird/freaky ..and
Umbridge
is such an A@#hole..seriously she's one of my fav bitch to hate now..Bad?..well i would actually like to see more of Hermoine and Ron (ron's not really funny anymore).Overall i like it 7/10 ...oh fyi im not a big fan of pothead..but after this..hmm lets just say i grew an interest.Oh I might want to add, I heard this one dude at the office says
*Ala potter sucks...tak logic langsung"
...so Transformers are logical?...nice.
Next off
Live Free or Die Hard a.k.a Die Hard 4.0
, saw it at Puchong IOI (sigh...my arse still hurts) after my colleagues wanted to bowl there.Their lines "
hey u come to ioi laaa,bowl there not many people looo...blah2 yada2"
then...the unexpected happen...the bowling lanes are full till 11p.m babi much?
Plot :
Bruce is older, but he still rocking.Some hacker dude hacks into some national guard system or whatever then shut downs the whole country system...awesome.
Verdict :
Fyi I've only watch the 2nd and 3rd..and I actually dont remember what happens in the 3rd.But ultimately it doesn't matter, it's a stand alone movie itself.Notice I didn't write much regarding the plot..well that's how awesome the action was, I totally forgot bout the plot.From the get go the action was none stop...most of em are excellent,some are illogical but still jaw dropping but it's still GREAT.Bruce and Justin did great, also
Maggie Q
is stunning!woof!Oh oh watch out for
Kevin Smith's
appearance..that dude still rocks.The jokes in the movie is cool,typical Bruce Wills dialog but still cool.erm what else...oh and the idea of our system can be shutdown just like that*aku snapping fingers ni* is scary..Ultimately Die Hard 4 is a fun ride..nearly matched my fav Bruce movie,
Fifth Element
..8/10,while jumping high doing a split
Next
Severance
,I heard lots of good things bout this movie...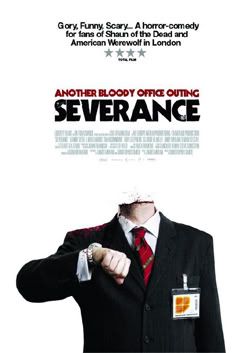 Plot :
Some cooperate personal went into the woods for some bonding session.Unbeknown to em the place where they are staying is where these savages live and have fun killing people for sports...niceeeee
Verdict :
It started out somewhat a snorefest, but luckily there are some awesome jokes here and there.Which was helped by the very excellent cast,seriously the cast here is stellar.Actually I was a bit bored watching the beginning only because I was struggling to understand what in the world are they talking about..I dont get a long of their slang's.However when the action starts none of that matters..the gore was cool enuff for my standards..nothing I've seen before but the jokes in the movie was funny as hell.There's this one scene involving a bazooka is to die for, I laugh out loud rolling on the floor.Overall this is a cool flick but I could have use some subtitles. 7/10
I've been waiting to see this,
Hannibal Rising
Plot :
A prequel to the devilish Hannibal Lec..erm lupa spelling leh?
Verdict
: Ok the dude playing a younger
Anthony Hopkins
, doesn't look anything like Anthony Hopkins his acting is top notch, the smile, brrr.Erm the story is interesting, revenge for his younger sister after these soldier ate here(
yup A.T.E her
)..it was interesting enuff but somehow it felt a bit boring,maybe cause Gong Li looked like she wanted to sleep.But nearing the end after he started offing these guys ha that's where it got good,the kills are gruesome..1 death in particular is awesome,eventhough they didn't show the outcome..I can imagine what happen..yikes..erm what else..oh but there are a few plotholes in the movie which doesn't make sense for the later Hannibal movies, which was kinda a letdown..but still I wouldn't mind seeing this movie again, 6/10
Hot Fuzz
, i was indecisive with this one,should i watch it or not..then today I just finished watching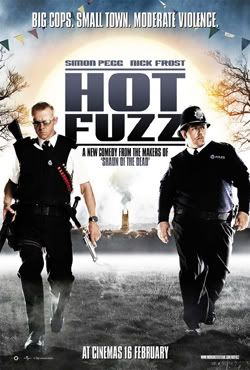 Plot :
An overachiving policeman is sent to the country side with LOL reasons by the chief inspector.What follows is a murder mystery,make that murders that no one there seem to bother.
Verdict :
Ok
Shaun of the Dead
was funny,this...is wayy funnier!It started out with some hillarious jokes got lalala in the middle but when the killing starts...wahhahahahah funny!The acting like Shaun was great,all of em are...see Brits are funny.Plot was hillarious!The reason behind the killings is so OUTRAGEOUS.And the killings are bloody...now that's a wow..the gory stuff was great!..I don't know what else to say but if ur a fan of Shaun of the Dead...go see this!..8/10
I leave you with the upcoming poster and a bit screen cap of
Invasion
,starring
Nicole Kidman
and
Daniel Craig
,I'm note sure if this is a remake...but the plot does seems the same as the
Invasion of the Body Snatchers
(i really really really love the 70s version)...btw the first screen cap is
Veronica Cartwright
she was in the original and gave one of the most Chilling screams ever..I still love that scene, to recap..click
here
..