Me no have fetish...me think ah..eh maybe I have one but not to the extend of these two movies.weirdwise.These two movies is about how sick humans can be...so here we go.




FEED




The Fetish : Men who likes hugeeeeeeeeeeeeeee chicks, and i do mean huge!
Plot : A cybercrime investigator who investigates a case based obscene content of a website stumbles upon a website
(www.delaexposed.com)
about erm how do i describe this..erm huge chicks porn site where the men
(who are fairly built)
worship these woman. But for what?...the plot thickens...
Verdict : This movie is one of the sickest thing I have ever seen.The gross factor is way up there along with Evil Dead / Hostel BUT it doesnt involve blood, guts or whatever.It involves fattening up an already BIG girl into something like the BLOB....and its sick!I thought hacking people up is gory but seeing this chick beeing stuffed! by all sort of fat and then played around with it
(they were high on it i guess)
is I repeat sickening.
And not to forget they first scene where another cybercrime offender is enjoying his fetish
(wont spoil it for u but oh dear me),
again back to the fetish, it really is an eye opener seeing some getting off on feeding a girl!! yowza! and the dude really digs it when the fat chick pleads "feeeeeeeeeeeeed meeeeeeeee"
(by the way, the way this chick said that is really haunting)
I give this stories plot a solid 5 for originality cause I never have seen this kind of movie before.Acting wise top notch, even the fat chick who doesnt really do much is dead on!...dark factor...yo its dark!All in all i give this movie a solid 4/5
HARD CANDY
The fetish : Men likes young girls...tsk tsk tsk
Plot : A young girl tricks a possible child rapist into bringing her home to his pad.After much seducing etc, the dude gets knock out and wakes up beeing tied up.Torture ensues.
Verdict : Good god this is a powerfull movie. Firstly, the thing I like about this movie is about the mysteriousness
( ada ke ayat nih?)
of both of the main character...u dont know who what, where, why, bout the girl and; did he,or is he bout the dude.And let me just say some of it was never answered...which is good.Then me also likey the simplicity of the movie, no big sets, no big cast and no big bloodbath fights.There are fights and it does hurt(specially for us guys) but it didnt go over the top like gun shooting or knife wielding fights.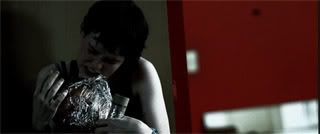 The girl! was awessssssssssomeeeeeeee! She brings
IN
in the innocent
(mencuba bring it on)
good acting from this girl, I bought her angelic face, if she bluff me anything I would trully have belief her.Then the dude, he's also good, though it is sick thinking that he might have rape young girls, then again he does look genuinely innocent and sympathetic.
All in all a great great movie! 5 out of 5
---------------------------------------------------------------------------
Shout out to Joe and Pam, I give u
SEX!