Allrite lets wrap this up,its bout time...tapi takut gak nak abihkan,comment2 fadz far in comparison dengan akunyer,terkelu sekejap baca comment2 en fadz.Ok moving on....luckily MOH ended with good episodes, i won't say great but above avarage...but the journey to get to these last episodes was a very slow and what felt like a never ending journey of lame stories.


10.We All Scream for Ice Cream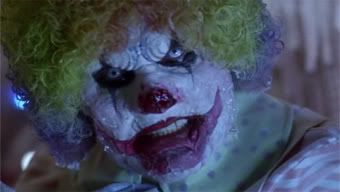 Plot :
A slightly retarded ice cream man got killed from a practical joke,fast foward to the future,the ice cream man came back from the dead to wreck havoc to those who participate in his demise.
Who :
Tom Holland (dir : Fright Night (wohooo!) , Cast : Lee Tergesen (Tv's OZ)
Verdict :
Finally the series picks up it pace a lil,and pelts was where it started,but this ice cream story confirms the series have more good episode in it's sleeves.Ok why i like this,basically the spook factor,previous installments are all politically or human issue related, i want some fright, i want to be slightly scared.This entry manage to do it..brings back memories of IT,in which i kinda got freak out by any bozo the clown.Who would thought that clowns would be freaky, another thing i like is the way the clown kills off the individuals that wrong him.Cool to say the least.
This ep is a must see.Fun and freaky,i like.
11.The Black Cat
Plot :
A black cat terrorize a stuggling writer.Cool
Who :
Stuart Gordon (dir : Re-animator) Cast:Jeffrey Combs (House on Haunted Hill)
Verdict :
Another good ep,there's still hope for MOH it seems.Black Cat is better than the previous episode.(but it doesn't beat my season fav,Screwfly Sollution)this movie reminded me of a ghost story i read when i was a wee boy.I dont remember the title,its bout this guy who killed someone then hid the body,later on he is haunted by the guilt of killing this "someone" and kept hearing the body calling out to him.Ok back to topic,the story is kinda like that,but involves this eerie looking cat with its hypnotic stare.I wont go into more details as i think in general this is one of the better episode of this season, it got the chill factor,it got a story,interesting story,the frickin cat and good characters.All in all im satisfied with this one
The Washingtonians
Plot :
What if George Washinton the first president and founder of America is a cannibal?
Who :
Peter Medal (dir:Not that aware of this one,but imdb states Species2..interesting) Cast: Johnathon Schaech (The Forsaken)
Verdict :
A cool episode that I personally thinks deserve to be up there with those excellent episodes of MOH,it reminded me of the deer episode last season, but a funnier and much interesting plot.What attracts me to this episode is definately the idea of George beeing a cannibal,that's a riot!It's not remotely scary,but the villains are cool enuff, 1 thing bothers me though, how the washingtonians was defeated was way too easy for me.But the ending before the credits was funny as hell,GREAT EPISODE!Must see.
Dream Cruise
Plot :
2 ghost seeks revenge on 2 different individuals on a boat,as if 1 is not enuff.
Who :
Norio Tsuruta (dir: Kakashi...oh dear) Cast : Daniel Gillies (Bride and Prejudice)
Verdict :
Save the best for last?...not really,last season..the finale was the bomb, but this season finale was kinda a letdown,but it isnt as bad as all those americans review said,its just a lil bit slow at the beginning and crawling slow-mo ghost have been done like loads and loads of time.But overall its not that bad,the setting was cool,i mean trap at sea,where do u run?However the ending was a bit melodramatic for my ending...maybe its the score at that time,i dont know..Watch this only the last 20 min :P.
So here's my list of fav till the least fav in order
1.The Screwfly Solution
2.The Black Cat
3.Pelts
4.The Washingtonians
5.Family
6.We All Scream for Ice Cream
7.Pro-Life
8.Right to Die
9.Dream Cruise
10.Valerie on the Stairs
11.Sounds Like
12.The V Word
13.The Damned Thing~~~~TERABATHIA BEST! GI TGK!