Benda nih punya lah dah prepare lama...tapi baru sekarang dapat bukak itu Photobucket tuk host gambo...hish...seriously someone show me another good website for image hosting

Anyhoo did a lot today(21/06/07)...saw Surf's Up (me like this)...than followed by Alone(a thai flick..its not good)Then had fun buying stuff here and there...went credit card crazy a bit there...well anyway regarding the topic above...Just wanna promote this 1 gal that recently fall in love with...seen her a couple of movies before but that Saturday I watched Cry WOlf..and although i've seen it before but damn!...Lindy's smokin hot...I love redhead's (even if it's dyed)...i find them looking wild and full of energy(dela jgn try)So Lindy's right now in my rader for watch what she's doing next..


Saw her first in
Wrong Turn
, though her character wasn't long to be remembered but she does have a great death and!...a cool looking dummy corpse..(*side note...and that time she was credited as Linda Booth..dunno why she changed it)
Then came the ever excellent
Dawn of the Dead
remake..her character didn't have much to do BUT her character did one of the most stupid/annoying/troublesome...thing in movie history...she went back to a lil shop,which outside was zombie infested just to get her...get this...DOG!...HaiHHHHHHHHHH...then everyone gotta save her which led to a chain of events..that kills these survivors...good going Lindy' character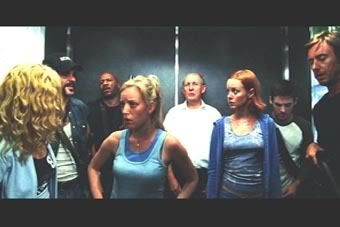 Now here's where Lindy impress me to the max..in
Cry Wolf
she played a 2-face beeyatch who have her own agenda..gotta say..her character here is one of the most interesting and layered character i've seen before..and Lindy pulled it off well, the last scene was very cool,chilling and jaw dropping...love it!...and for that my friends...i;m keeping my eye on this lady...
p/s : Jurina have fun at Langkawi!!!