I just got this movie titled Camp Slaughter aka Camp Daze..and it was so corny and campy i dunno if im gonna rate it as bad or good/bad (fun).


POSTER CUN
Plot was good.It's about a bunch of teens,who took a wrong turn.They end up at a camp, the funny thing is they are stuck in 1982..or is it '81?..anyway,like the usual where there's a camp..there's a killer on the loose..killing every one,the counslers and the kids..but there is an itsy bitsy twist that will blow ur mind.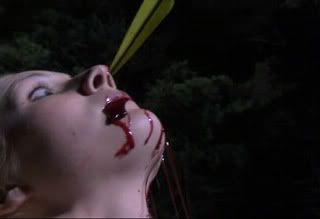 WOOOO GORE!
Now how shall I rate it?It's kinda hard cause for a straight to video movie..it is kinda good.But! for an A movie oh god how it sux.Quality wise...it sux hell.Especially the sound..u can tell the diffrence from one cut to another, and the sound effects...ayoyoyo amateur nak mampus.
FASHION 80'S ADUHHHHH...SHORTS TUH TAKLEH PENDEK LAGI KE??!!
Acting wise is a big HAHA...I know a couple of them..others = whooooo.One of them, Matt Dallas is the star of the current hit show Kyle XY.(I bet when he grow older..he'll looked back and lol when he saw where he started from).Now to the characters...where do i start,there's this annoying madonna like cheerleader,there's this BIG girl who says she run tracks(HUH???!),there's this guy who wears half shirt where it'll expose ur abs(oh dear god),there's this dude who goes grabby with another innocent kid,there's this token black chick..who..well sux...the list goes on...hence...character and acting wise is not the movie's strong point.
PERASAN LEH RUN TRACKS...YEAH RITE!AND SOMEONE CUIT PIPI DELA...OH WAIT..THAT DID HAPPEND!
Gore wise was ok..not bad actually.Plot was a bit confusing.I blame the editing..it goes from here to there and then to here and then north pole.Pening weih...though i get the ending...the editing didn't help me at all.BUT it is a good concept and the set / props was dead on.
ITS NOT BOUT THE BOOBS..BUT MORE ON WHAT THE HECK IS SHE WEARING
Last thing i want to add,there are lots of Friday the 13th's nod in this movie.Kinda cool,but skit2 tuh dah ah kan.
IMPROPER TOUCHING..LINENYER "UR LIKE MY BROTHER" OHHHH SUREEEEEEEEE
Well i end with it's a good concept, bad bad execution with stoopid characters and acting and kinda gay...see it to understand it.Rating ... erm 1/5 if im rating an A movie but 2.5/5 since it's a straight to video movie
RINO MENYERANG..TOKEN BLACK!