The title says it all,remakes are pouring in like..ermm haaa!like izar's myspace friend request!..(psst he's still the in thing)


Ok first off,let me tell u bout Scream 4,there were rumours going about that there is another sequel for the excellent scream trilogy..but it has been shot down.Since everyone is bz and neve is still undecided.This is what I can say...deep2 inside..I do need another scream..but it's not a must..if so it happens..pls kill off Neve bring in another heroine!! ok im done with that..

So here's a list of some of the coming remakes...


First off :
Wicker Man,
Plot :
An investigator went to a secluded island where their beliefs are a wee bit diffrent from ours(
ok a lot
).He's there to investigate a missing child case.But as he dig in deeper,he notice that the town is not what it seems.
The original :
To tell u the truth,personally i didnt like the original,i mean seriously WHAT'S WITH THE CONSTANT SINGING!I THOUGHT IT WAS A HORROR/MYSTERY STORY.and the ending was predictable enuff..and i'm sure this one would be about the same
without!
the singing(
im really hoping there wont be any
).On the plus side..the town was a bit toooooooo weird(
which is good
) for my liking..if u ask me, i would have haul ass the first night.
Prediction :
Base on the trailer..I do think it would be ok..Basically i didnt like the original that much..so yeah I dont mind much bout this remake.
Second :
Day of the Dead
Plot :
It's the third chapter of the dead series.About a handfull of survivors living in a bunker hoping to find more survivor while experimenting on the zombies.
The Original :
Was ok..a bit slow,but good enuff.
Prediction :
I'll say this much,since they have already remake the other 2 earlier chapter(
which turns out good..what am I saying..its great!)
,I'll say go ahead!And with the cast like
Mena Survari
in it i'm sooo looking foward for this remake..and lets just hope it'll move a bit faster than the original one.
Third :
Black Christmas
Plot :
Sorority sisters stay back for Christmas is beeing killed off one by one...in their own home(
it's a big ass home
) .. :o *gasp
The Original :
WASSSSSSSS SLOW!...but it is good and eerie..but boy was is sloww!..but the good thing is..Black Christmas was supposebly the first movie that introduce a killer stalking dames using a phone.(
when a stranger calls came right after this movie
).Plus side,Olivia Hussey was the bomb!..she's so innocent and nice and endearing till u know she will survive at the end.And I also liked the killer..he sounded really2 weird.
Prediction :
I dont think it'll beat the original fell of eerie and bleakness.But im sure it'll at least be moving faster than the original.Oh and the cast is kinda good.
OK that's bout it.There are more..but I need more info.OH let me also share with u guys that Halloween would/might be remake by Rob Zombie..and i say WTF..leave it be!Before I leave for work..let me leave u with Gellar's latest movie
THE RETURN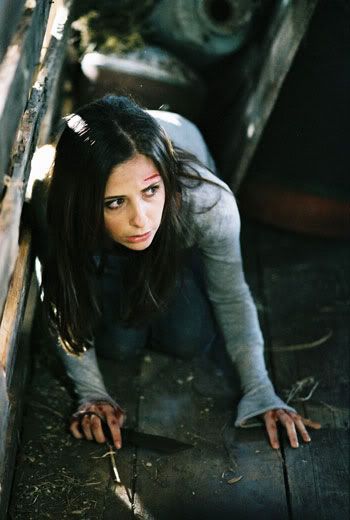 Plot :
Joanna Mills, a tough young Midwesterner determined to learn the truth behind the increasingly terrifying supernatural visions that have been haunting her. Joanna has made a successful career for herself, as sales representative for a trucking company. But her private life has been difficult; estranged from her father, stalked by an obsessed ex-boyfriend, and with few friends, Joanna fears that she is losing control. She sees and feels the brutal murder of a young woman she's never met, at the hands of a heartless killer - a man who appears to be making Joanna his next target (*aku copy jer nih)
allrite..tata.N