ok life first, kinda sucky today, in the afternoon i recieve my PTPTN statement notice and guess what,my debt to pay hasn't gone done even an inch, in fact it went up more..Y? well get this, apparently the monthly rm100 i pay a month doesn't even cover the intrest...suprise-suprise,my monthly intrest is 180?babi tak?good reason enuff to be a little pissed today no?oh well looks like i gotta pay 200 per month, goodbye comics it seems (pretty sad bout this,but what to do)..and i think i'm gonna hang on with this job,even if it sometimes pressure me.better than beeing paid rm1,200 per month.

Anyway the topic, ha! there's this new monster flick coming,an it seems awesome!the reviews so far are more than avarage, and First mag(the current mag im reading cause saving budget) praises this movie a lot!...and i'm dying to know when this flick will come to our shores.

It's a korean flick (hooray for the asians!...get ready to be remake), involves the city beeing terrorize by a monster who aint actually godzilla big, but more of a minivan size...from what i heard lah.People say the beauty bout this movie is because it involves ordinary people doing extraordaniry things like saving their kid who was taken away by this thing..anyway click on the link HERE to check the teaser,oooo im getting goosebumps.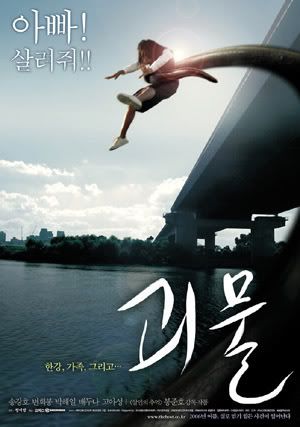 ----------------------------------------------------------------------------
And in honor of awaiting this flick it got me thinking, what are my fav monsters so far i've seen in my lifetime, and heck! this could make a great topic,so trululululu i go typing now,oh azmir dont worry
USA Godzilla
wont be in the top 10, its not a great flick anyway...and that giant lizard seems silly, should have made it a T-rex or something...so here goes
TOP TEN MONSTER
10.THE BLOB
Who :
No not that big X-men character, it's a movie, if im not mistaken,it has been shown on Malaysian Tv a couple of times.The Blob is a gooey thingy that came from outer space and terrorize a small town (ahh fun times)...how it eats? it just suck u in it's goo and u'll be slowly digisted, painfull thought but good kills.
Why :
The thing that made this blob got into the list is because the fact that it doesnt have an appearance..a face, its just liquid...and that's scary..how would u kill liquid, u tell me.
Defining moment :
When the blob ate this brat,i was like..oh poor kid..not!
9.PREDATOR
Who :
That alien thing from the movie Predator,oh u know the thing that spotting a bob marley's hair..Well this alien kills for sport, for trophies..the get off killing people that they deem a match with them
(yeah rite..with all their gadget who on earth are a match for them)Why :
The Predator is just damn cool, u know in the first movie when it's still mysterious...u dont know what it looks like u can only see something like an outline..fuh that image brings me chills..and it still does till it open it's mask and show it's wonderfull unkissable face.Oh yeah and the Predators in AVP suck ass, they got pussy whip easily
Defining moment :
It's revealation of what it trully looks like.love it
8.THE MIMIC
Who :
Now i love this movie, it's dark,it's gloomy but kinda slow..but the most important..the monster..is freaking cool! The thought of seeing a something in a form of a man but turns out to be a big bug, gives me chills..The mimic just plain rocks..so does it sequels (not great but good enuff)
Why :
Like I said above, it takes form of a human and then drags their sorry asses into the sewer to be devour.
Defining moment :
First appearance itself was kinda spooky, but what made it scarier is the time it killed this two kids.That will teach kids not to go into the sewers
7.AN AMERICAN WEREWOLF IN LONDON
Who :
A tourist from america gets bitten by a wolf.Unbeknownst to him,he is slowly turning into a big ass wolf with killer jaws.
Why :
I get scared easily when it comes to wolf, they are silent,they are big and they just kill u off in one snap. And since this is the first werewolf flick I saw I guess is fair to put it as a refrence of the great big bad wolf.
Defining moment :
The turning..for that time...it is considered very very well done...i was in awed..in fact i was behind my bro if im not mistaken.
note : anyone took my dvd of american werewolf pls give it back, im missing it
6.THE RELIC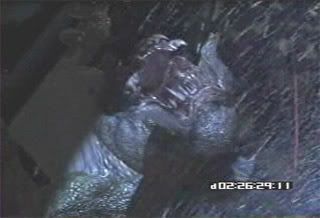 Who :
Now this movie didnt get the credit it deserve.I love this flick..a lot!and i know most people hate it because blah blah blah..not the same as the book,whatever..i didnt read the book, sue me.Anyhoo The Relic is a mixture of reptiles that when combine = big ass M@#@!$ F@$!%.Some people
(the haters)
said that it look like the predator..ok yeah it does..so? the predator's hair looks like bob marley..?now how do u explain that..AND! the katoga
(its so called name)
can kick the predators ass anytime.
Why :
Well firstly.it's hugeeeeeeeeee and fast..seriously i think i'll go numb if i see it up close.Then it brings back such great memories..i saw this flick in the cinema with my mom and dad celebrating my 14th..or is it 16th birthday..aww shucks those guys know i love horror movie.
Defining moment :
The scene in the sewers where it drags a couple of the survivor to be killed, scary moment..and such tight space.
5.JURASSIC PARK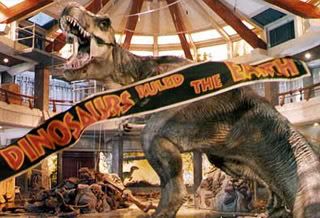 Who :
AHHHHHHHHH jurassic park, makes me feel giddy, who wouldn't? after seeing such realistic T-rex and others on the silver screen.I love this flick,it gave me lots of jumps and good scares..in fact i managed a scream if im not mistaken..ehem the manly type of scream.Ahh jurassic...sing with me guys ta na na ne ne ta na na
(nih theme dia kalau korang ingat...oh dear god im getting weirder)Why :
The T-rex is bank!i love it..if that thing is real..heh..i would never go out..ok maybe to buy dvd's but i would bring a big ass laser gun.
Defining moment :
when it killed the raptors at the end of Jurassic Park 1..HAH take that u annoying small thing!
4.TREMORS
Who :
When i first saw tremors I couldn't get enuff of it,its silly fun and kinda scary..i watch it like monthly and laughed everytime.its bout these giant worms which terrorize a secluded small community
(tuh lah gatal tinggal jauh2 takder orang)
ahhh tremors..when i first saw it,i didnt know what to expect..from the covers i thought it was a bunch of weird looking snakes..boy was i wrong.
Why :
Because it came from beneath..yikes that's a scary thought.Kak Maya my sis in-law went paranoid after watching this flick..im serious, she told me she would just stand still for awhile when there's a erm tremor.eheeh cool story.
Defining Moment :
When it hit a large pavement and died..WAHAHAHAHAHAHA dodo tul
3.THE THING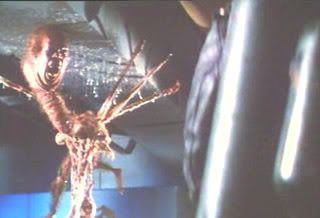 Who :
A great flick about beeing paranoid in a secluded place.This flick is scaryyyyyyy, u dont know who to trust..and that "thing" is very icky.
Why :
Bak kata gaya cam Jaa
*eh takmo plss jumpa binatang camnih.
yeah i gotta agree...never never never want to see this thing ever..it's just plain monstrous.
Defining moment :
The doctor that turn into the thing...didn't see that coming.
2.THE QUEEN B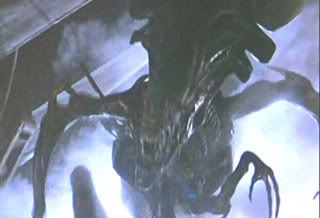 Who :
It's that big ass mother who walks like a model but screech like a banshee.Oh yeah it from the aliens saga
(boy how i love the aliens)
Aliens still remains one of my top ten movies ever..i loved it! i even have that alien mother in..ok dah patah..but i had it once.This was a though call actually, cause both the top 2 is really neck to neck..but made my jaw drop and both made me scared shitless.
Why :
Because it's such a beautiful creature..seriously..its so unique..im loving it.But i wont keep it as a pet.
Defining moment:
2 scenes,
i.when it's revealed there is actually a mother
ii.ripley's one on one with the mother
"get away from her u bitch!"
hoho fun times
1.JAWS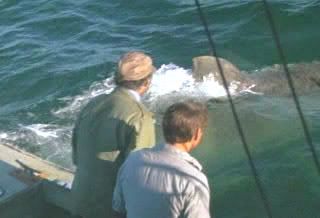 Who :
Who u ask?the only scariest thing i've seen ever..and the thing is real is what made it worst.Jaws is one of the scariest flick i've seen.the first scene itself is classic and scary.
Why :
Seriously, i was scared to go into the waters(the sea) for some time, cause i can't get that theme song outa my head.And at that time i mostly play in the shallower parts..wont go that far..u'll never know. :D
Defining moment :
The first scene and! when the full scale size of that thing is reveal,i was like "eh berani derang bakon ngan binatang besar tuh"...
(i was young full of hope full of life)
nearly made the list : SPECIES (OH SO HOT),The Squid in Deep Rising, JEEPERS CREEPERS (IF ONLY IT WAS LESS GAY) and Dela
that's bout it..gonna go now, wanna watch survivor toodles.