Bimbos bimbos,they're lovely to look at, but veryyy veryyy challanging to talk to,i bang my head at a screen just because of this one bimbo.As some of u might know,i'm working for an IT support team,we support the users for my Company's well,technical thingy.Basically we unlock the user's password etc,stuff like that.

So along came this china lady,from shanghai,sounds young,kinda cute voice(leh lah wat wat sweet skit kan :P),boy was I decieveeeed.Her name is Yin Chan,still remember her name from last week, cause she really really tested me.Here's the conversation, from what i remembered.

Me : Welcome to ITSC blah blah blah,yada yada...how may i help?

Yin: Erm, my account got lock,can u pls unlock it.

Me : Certainly,tell me the error msg.

Yin: Erm..what?i dunno understand..what elol msg?

Me : That's ok i just reset ur pwd maybe u type in the wrong password,ok password is China123 capital C

Yin: I ALREADY TRIED THAT,IT DOESNT WORK (amboi naik suara lak dia)

Me : Try again,that was just now,now i reset again!

Yin: What???!

Me : JUST TYPE AGAIN(aku lak pissed off)

Yin: okok...(dgr bunyi type), i cannotttttttttt,still cannot login.

Me : Ok,pls tell me the error msg.

Yin: What??!

Me : *Sigh,forget it...i'll just check other servers,maybe ur account is locked there

HISTORY LESSON : You see there are many servers where acc might get locked from,sometimes u gotta check one by one,not the main one...BUT.it takes a hellotta time to get into each server..

after much searching...around 5-6 min

Me : Yin, your account is not locked!i checked every server,it's not locked!

Yin: But i cannot go in my pc (serious bunyi whinny gila),can u just unlocked it.

Me : OK for the last time tell me the error msg, maybe i can figure something out...u know the pop up thing where it hints u what might went wrong?

Yin: OOOOOOOOOO...okok, error msg is....

"Your account has expire pls change your password........."

Me : BURETTTTTTTTTTTTTTTTTTTTTTTTTT(NIH DLM HATI JER), sambil hentak2 kepala kat screen pc (nih mmg terjadi,i kid u not aku hentak kepala kat pc cam orang tension)

Me : Ma'am just change to a new password ok,thank you bye.N

----------------------------------------------------------------------------------

that girl really really tested me,shesh...ha but she's not my bimbo of the month,im gonna make a topic every month where I think someone deserve to get the title,basically of course, it's tv/movie related..so my bimbo of the month is....



PRASHANT AND SAHIL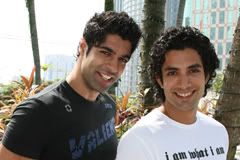 Who :
They are the models from india, one of the participant in the Amazing Race asia.Self dubbed overly smart (....), they beat out the other should or would be bimbos of the race,heck even every channel with anything on it...for the bimbo of the month.I'm not gonna say they're stupid cause that's just mean,but they are sorta of an airhead.
Why :
-Their overly smart comment.Overly smart lah sangat.
-Their statements :
"Is this bukit nenas forest?",
asking someone near a building which doesnt at all! look like a forest,better yet...not even near a forest...dude...a building is a building,a forest is a forest.
-Their overly grooming in the car,aku tau lah model...tapi drive lah kereta tuh!
-and lots and lots of their antics which proves that models are...bimbos(not all lah)