Sigh buhsan gila weekend nih,parents takder...kekawan ramai tak bz
membuta jer ah kat umah...nasib ada MASK si Leha pass kat aku

You guys remember M.A.S.K this cartoon from our days *im guessing most mah readers are 25-ish..where u have this awesome cars and trucks...well after transformers came back and making it big..suddenly all these 80s cartoons are appearing in ..ehem..torrent sites but thanks to Izar for passing the nearly full set of MASK in which I wouldn't have to waste...3 months..im guessing 3 months...to get the complete series of M.A.S.K.Ada 72 episode kaaayyy..


Now after watching like 12 eps of MASK...i found its still entertaining but a tad annoying in sense..that T-bob or is it BOT? is majorly annoying..and most of the endings are utterly bad..cause it ends with everyone laughing..I just realise in those days cartoons ends in laughter..Another major letdown is Vanessa,she's the villain from Venom team..in which i really found hot in my younger days...now...meh...i've seen better...ehehehehehe.And another thing...what's with the corny team song?
But watching T-bob is kinda cool..I wish I had something like him..hmm actually we do have something like T-bob...
dela
!...bestnyer if leh suh Dela tukar jadik motorbike mode dan naik...HEEEEEEE
DELA!
Another 80s cartoon i have in my collection is Visionaries..now this one is still cool...I love the concept and age..with Magic and erm Technology collide.But weird thing is..there's only like 13 ep...what the...how come it got cancelled?Man...i want more...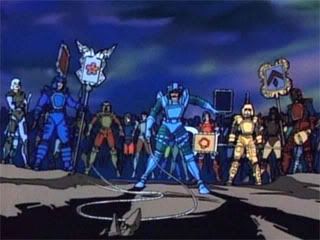 But like I said earlier,with Transformers being made into a movie..I bet you some of these excellent 80s cartoon will be made as a full leght live action movie..and I do hear rumours that there will be Thundercats the movie...how cool is zat!
Now here's waiting for
Visionaries
,
MASK
,
Dino Riders
,
Inhumanoids
,ehem Smurfs...and others to be movienized..*ada ke such word?
p/s : I just realised this is my 100th post...damnit!Should have made a top ten...okok i assure i'll make one next...throw me some ideas guys..Leha..no top 10 best male bonding scene pls.