First off Congrats to Wani for getting Hitch..Haihhh...times like this made me feel like i'm getting older, but that's ok ...i enjoy the bachelors life...I guess.My immediate target for time being is to find a job where I can be totally happy and then I'll think of getting married...speed dating I guess (boleh?).

Anyways, I lurve last weekend though it's one of mah most tyring weekend to date.The original plan was for me & sutun2 to meet up with Mahda and tunang to be @ Restoran Jejantas Sg Buloh around 9-ish am.But the plan changed as Nole & Aida decided to tag along with me (and she informed me around 2 am..hebat2).I woke up on time,suprisingly Sutun2 as well.Tralala2 fetch Sutun2 around 8.40am @ Cheras (i think)...Mahda already SMS-ed stating she's already there..but then Nole sms saying that Aidi is still stuck @ SEREMBAN!...amboiiiiiiiiiii.takleh jauh lagi?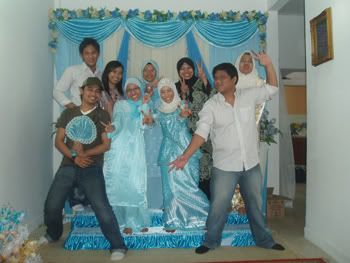 But thinking positive and cause I've haven't seen these people for quite some time, I just kept quiet and fetch Nole first @ USJ..then ate MC D breakfast.Tralalalalala wait wait, finally Aida arrived around 10 plus.However the road was already packed and a bit Jam...so sigh...THEN! Mahda sms-ed that her car suddenly won't start..oh mannnnnnnnn....
Reached Rawang RnR and there they are,looking a bit sad bout the car,luckily those Plus people helped out and towed the car to...erm i forgot,but we tag along to this one deserted place,waited2 made loads of joke till Nole was in tears...and it hit me, Nole is definately got the same sense of jokes like i have.Who would have thought, cause those days in Bainun, I wasn't at all close with her..She even state dat i control too much those days (ahahaha gotta agree with that one)...anyhoo around 1 ish pm the car still ain't fix so Mahda plead (yoyo) us to go ahead first, so we did.
Then drove like hell to Taiping, and reach around 4pm I guess, but it didn't feel long as we we're talking bout those days and made up a few more jokes.ehehe fun times, then reached Wani's place.As expected...food have already been kept in the kitchen, but luckily Wani save some for us, *nasib dia tak letak cam 1 ketul ayam jer dan suh rebut,tapi sudah pasti aku menang kan. Oh Noi and Nasya was already there , and said the only other Bainun peeps that showed up was Cody.
Chit chat away then I'm not sure who,I guess it was Sutun..decided we should go to Penang and have some fun.Noi and her corset of course agreed to this...so fastly around 6 we all went up to Penang.And let me tell ya...Noi drove like the Devil...tau lah anak polis..hish.Reached Penang around 9pm if not mistaken, but Penang was kinda hectic..some got lost..but reached Bkt Ferringi around 10pm.Where I jumped out and left everybody so that I can hunt for the Simpsons DVD...and I found it! Season 9 and 10..wohooo!
Oh but everyone was rushing cause Mahda just realised she gotta go back home ASAP.So did Nole cause her mom forgot to bring the house keys in Ipoh,she has the only key..oh mannnnn..So around 11 pm went out of Penang...and channeling Noi..drove like hell...but alas, still reached Ipoh late.Dropped Nole and Aidi then zoom to KL in which suprisingly...we reached around 4 am...weird...maybe i drove really slow due to the fact that i'm the sole driver...shitze...anyway reached home around 4.30 am...and decided then I will not go to work @ 7am tomorrow .So I slept...then 7.30 am Kak Kham called,demn!...if it was someone else...i assure you I won't answer..but this chick is nice..so I answered
"Reza datang tak?...datang lah cause UA(name of team) takder sorang pon..dan mmg patutnyer u jer..." ha tuh lah pandai sangat merge...amik amik!
So i agreed to go,reached around 8 am(patut 7 muahahaha)then slept on the desk for an hour..Then haih another wedding..luckily Nik was hot enuff and fetch me @ TPM..so lalalala @ che pa's wedding then reached home 6pm..slept like a baby..the end
*i love last weekend
*the invisible sucked ass
*noi wears a corset